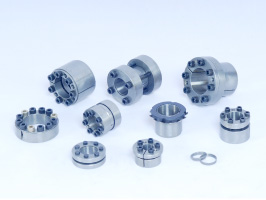 Catalogue Download
previous page
Locking Assembly
Applications:
Servo motors & Stepping motors, Robot, CNC machinery, Textile machinery, Food industry, Printing machinery, Paper machinery, Mining machinery, Metallurgy machinery & Heavy duty machinery.
Structure & Material:
Made of C45 steel with thermal refining treatment, tumbling grind finishing for all working surface and assembled with grade 12.9 cap screws.
Features:
High concentric, Keyless locking connection, Soft installation, High torque, High precision & High transmission efficiency, Long working life.
Bore Range:
Minimum: 6mm
Maximum: 820mm