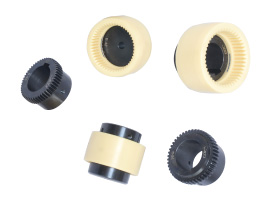 Catalogue Download
previous page
Nylon Sleeve Gear Drive Coupling
S-series & B-series
Features:
• ± 1Angular misalignment allowed
• ± 0.4mm Parallel offset
• ± 4mm Axial displacement allowed
• Noise reduced up to 1~2db
• Suitable for motors under 150Hp/110Kw
• Suitable for axial sizes 5~65mm
• Max. torque up to 820Nm (All models with torque limit tested certificates)
• Overloaded protection
• Electricity & Heat isolation
• Pollution free, easy assembly & low cost
• Working Temp. range -20~120°
Features of Double Crowned Tooth:
• Large contact area to provide low contact pressure and to reduce stress of shaft misalignment.
• Load distributed near the center of the tooth for maximum strength.
• Self diagnostic function for installation by moving sleeve only.
• Free axial movement of the coupling sleeve to isolate shafts heat transfer and future alignment problems.
• Without lubricants and the resulting seals or retainers, maintenance free.